THE ROAD TO VICTORY – A VISION FOR FUTURE GENERATIONS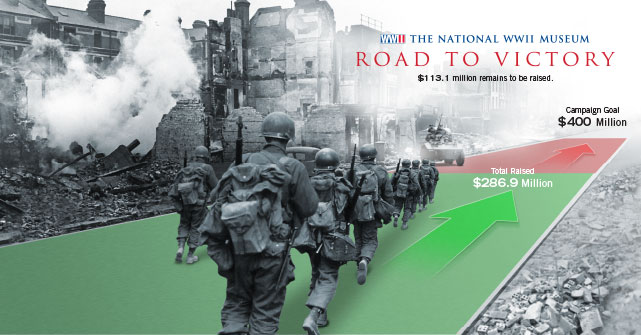 The National WWII Museum's capital expansion is made possible by a $400 million capital campaign: The Road to Victory: A Vision for Future Generations. This major project funds bricks and mortar, exhibit design and fabrication, endowment, and digitization of our collections. To date, we have raised $286.9 million towards our goal through private and public funds.

Join us on the Road to Victory – The Society of the American Spirit
The Society of the American Spirit is the group of generous individuals, foundations, corporations, and other organizations that are making our capital expansion possible through charitable contributions. Members of the Society receive invitations to all grand openings, private previews of future expansion projects, and access to all Museum exhibits. In addition, the Society receives customized communications ensuring that they are the first to know about all Museum activities and initiatives.
By giving to the Road to Victory capital campaign, the Society of the American Spirit ensures that The National WWII Museum will fulfill its mission to tell the story of the American Experience in the war that changed the world—why it was fought, how it was won, and what it means today—so that all generations will understand the price of freedom and be inspired by what they learn.

Society of the American Spirit: Membership and Recognition
To become a member of the Society of the American Spirit, the Museum respectfully requests a gift of $25,000 or more to fund the expansion, support our endowment, or build our online digital archive. To honor our members of the Society of the American Spirit, the Museum will recognize their philanthropy onsite on a gorgeous, permanent donor wall which will be prominently located in the grand entryway of the Louisiana Memorial Pavilion. The Society is also recognized on the Museum's website and in Museum publications, including the annual report and grand opening programs. With gifts at the Alliance level or above, it may also be possible to select an available naming opportunity, allowing you or a loved one to be recognized within the Museum exhibits.

Society of the American Spirit—Giving Levels
VICTORY $10 million+
HONOR $5 million to $9.99 million
FREEDOM $2 million to $4.99 million
LIBERTY $1 million to $1.99 million
VALOR $500,000 to $999,000
ALLIANCE $100,000 to $499,000
INDEPENDENCE $25,000 to $99,000
If you are interested in joining us on the Road to Victory, please contact Katie DeBruhl, Donor Relations Coordinator at 504-528-1944 x 363.