HONOR YOUR FAMILY MEMBER: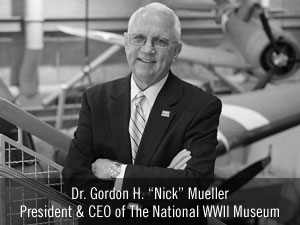 I have a hunch that someone in your family helped to win World War II.
This individual may have fought the Nazis in Europe, or the Japanese forces in the Pacific. Or collected scrap metal to help build the airplanes and anti-aircraft shells that protected US sailors against kamikaze attacks.
Whatever your personal connection to the valiant and victorious World War II generation, I know you must be very proud of your family's legacy.
As the President & CEO of The National WWII Museum, I invite you to honor that family member for all time by entering his or her name in the Museum's HONOR ROLL.
The HONOR ROLL includes names of World War II veterans and Home Front workers added by nearly 400,000 Americans since the Museum opened in June 2000. When you donate today, your name also will be listed on the HONOR ROLL as one who is generously helping to build the Museum through financial support.
If patriotic Americans like you will join us in our mission, just as a previous generation joined together to win World War II, I know we will get the job done!
I'm hoping that you will donate to The National WWII Museum and send a contribution of $25, $35, $60 or more today.
Please take a moment right now to click here and give safely and securely online — making sure to enter the name you would like to add to the HONOR ROLL.

On behalf of everyone here at The National World War II Museum, especially members of the Greatest Generation, I thank you for donating to this worthy cause.

Sincerely,

Gordon H. "Nick" Mueller, PhD
President & CEO





Designated by the US Congress in 2004 as America's National World War II Museum, The National WWII Museum is now carrying out a campaign to build one of the finest WWII museums anywhere in the world. When complete, it will be the only museum in America dedicated to telling the whole story of World War II from beginning to end along with the lasting benefits of peace and the spread of democracy since 1945.
Question? Call 504-528-1944 x 290.